Server checks
(2 daily checks free)
Our servers monitor
the page.
Set it and relax.
We've got you
covered.
You'll get alerted by
email and we will
show you the
difference when
things change.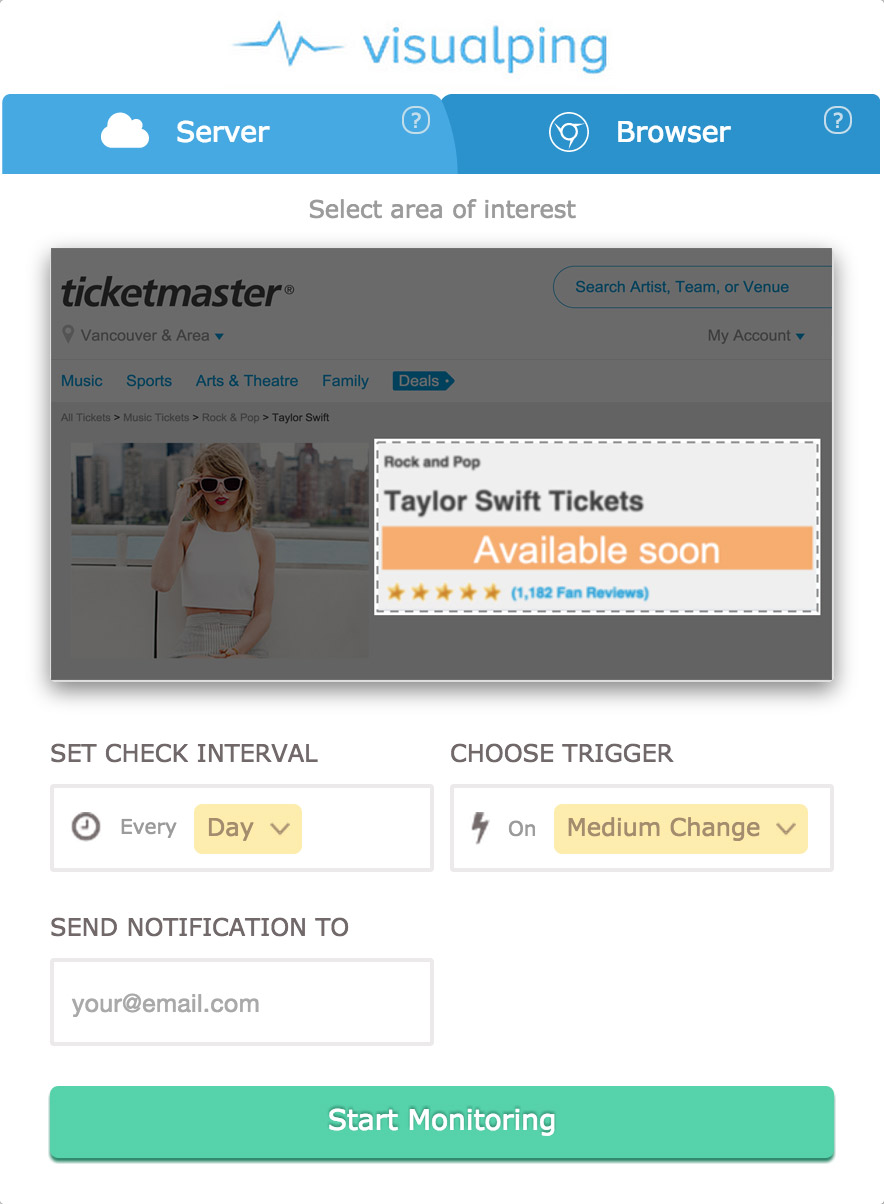 Browser checks
(Free forever)
Your computer
monitors the page.
Use it for the
occasional high
frequency checks
(5s – 5min) and sites
that require login.
Caution:
there is no email
alert and monitoring
stops when your
computer is off.
Browser checks are free
Crop the area you're interested in monitoring
Use email alert
from the app to get 700
extra free checks
Click on Updates to view what has changed
Click on Jobs to manage the pages you are watching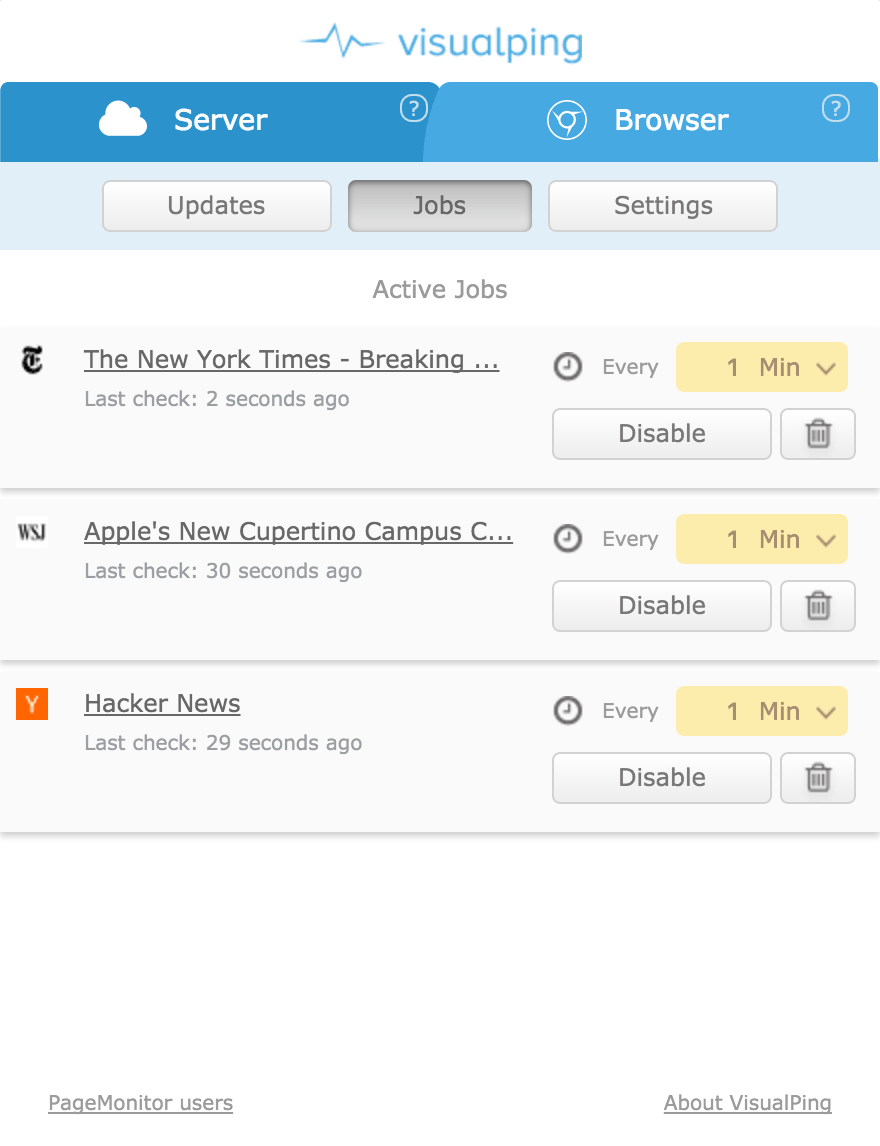 Control the settings of each job here
Transfer jobs to and from Visualping to other extensions here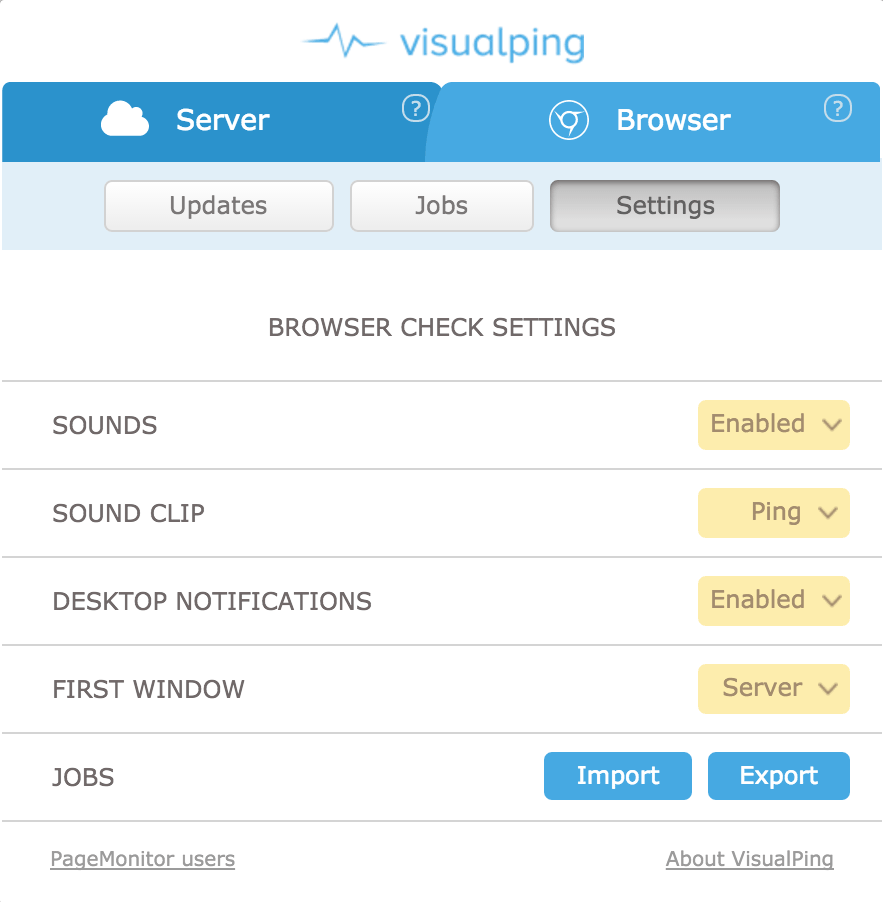 Control the settings of your extension by clicking here
Page Monitor upgrade:


Frequently Asked Questions
What is Visualping?
What differentiates our app from older ones is the fact that we detect visual changes (hence the name Visualping) not just text. Our Chrome extension allows to monitor pages with only 1 click directly from the page you wish to monitor. Users receive an email when changes are detected but can also set up a Slack integration for team notifications.
Why are we updating Page Monitor?
The Page Monitor and Visualping teams partnered to bring the best of both worlds: Browser monitoring (Page Monitor) and email alerts and fantastic ease of use (Visualping). Customers from each of the products were asking us to integrate.
What happened to RegEx?
We don't support this highly advanced feature at the moment. However, if you need it, please use the old Page Monitor app which can be found in the "Related" section of our website.
What happened to selector?
Instead of picking elements we thought we would make it easier for you to select sections to monitor by using our screenshot selector tool. Just click and drag and adjust the area you want to monitor. Our monitoring is now more powerful because we monitor the same DOMs but add a layer of pixel monitoring which detects visual changes as well.
Where are my old jobs and settings?
As part of this update, all of your jobs have been safely transferred into the new update and available for you to manage under the Browser tab, "Jobs" button. See below for exporting jobs and settings.
I prefer the old Page Monitor. How can I export my old jobs and settings?
In Browser mode of the extension click the button "Settings" and choose "Export".
I have a large list of URLs to monitor, how can I add all of them?
In Browser mode of the extension click the button "Settings" and choose "Import". We also offer free bulk import with Server checks. Just contact us at the email below for more details.
How do I customize my notification preferences and sound alerts?
In Browser mode of the extension click the button "Settings" and you will be able to manage your preferences
How do I customize the frequency and status of my jobs?
In Browser mode of the extension click the button "Jobs" and you will be able to manage your jobs.
How do I receive email alerts?
We have created email alerts you can be alerted when you are away from your computer. In the Chrome extension choose Server mode and simply enter your email. Once your account is registered you will begin receiving email alerts and have access to our highly customizable Visualping dashboard.
How much does Visualping cost?
Just like Page Monitor, browser checks are free-forever and the Server checks are free as of 2 checks per day. We also added 700 free checks as a welcome bonus to help Page Monitor users learn how to use the new update.
How much is Tiny Change, Medium Change, and Major Change in Server mode?
You can choose different trigger thresholds for when Visualping should send a notification. Tiny means 1% pixel difference, Medium means 10% difference and Major is 25% difference.
Where can I download the original Page Monitor?
We have re-uploaded the original Page Monitor into the Google Chrome store for those who prefer the old version, you are able to download it here: re.tc/92gvp01o
I have more questions, who do I talk to?
If you have any more questions or concerns, please email us below. We're here to help! We will respond within 24 hours during San Francisco time 9am-9pm PST. We might be slower to respond during weekends. Our email is hello@visualping.io